Static Truck Weigh Bridgee
Static Truck Weigh Bridge
The Digital Weigh Bridge shall comprise of a mechanical platform structure resting freely on Four/Six/Eight/Ten Load Cells. The Weighbridge would be Pit Type or Pitless type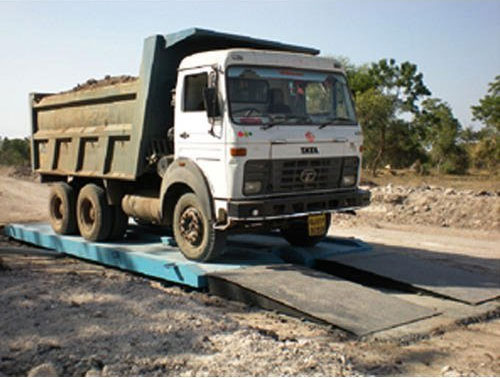 In motion Rail Weigh Scale
Features
Type:

Pit or Pit-less

Capacity :

30 to 200 Tons

Length Variation:

6, 9, 12, 15, 18, 24 meters, etc.

Construction :

Structural platforms with suitable girders IS2062; Top deck with IS2062 plate of adequate thickness with anti-skid bars; Load cells – strain gauge based double ended shear beam / compression protection : IP 68

Over Load Capacity :

200%

Industries:

Cement, Coal, Port, Steel, Power Plant, etc.
Other Features
Heavy duty load cells for long life and reliable operation
Rugged construction to withstand hostile conditions
Robust and sturdy platform.
Incorporates latest microcomputer technology for fast and accurate weighing
User friendly software and communication technology
Bright, large and clear LED display
Computerized model for effective truck management information system and report generation on the basis of date, vehicle number, supplier, material, etc
Pit Type
Pit-less Type
Suitable when there is space limitation as ramps are not required at either side.
Suitable if down side ground level in comparison with road level.
Flush to ground level.
Low civil cost with lesser excavation required.
Designed for heavy usage and harsh environment.
Very rugged and tough in structure.
Facilitate easy movement of vehicles on platform
The load cells and top of deck plate are above ground level, facilitating easy maintenance.
Available with compression, double ended shear-beam type load cells.
Weighing Controller
Resolution
20 bit A/D converter, 60 Hz, 100,000d display, +/- 500,000 internal
Non-linearity
0.005%
Display
Six digit 22 mm LED
Communication Port
RS 232 bi-directional
Output Signal
4 – 20 mA serial output for remote display
Power Supply
230 v , 50 Hz
Standard Models
Platform Size (Mtrs.)
Capacity (Tons)
6 × 3*
30 , 40
9 × 3*
30, 40, 50
12 × 3*
30, 40, 50, 60
15 × 3*
50, 60, 80
16 × 3*
50, 60, 80
18 × 3*
60, 80, 100
20 × 3*
100, 120
24 × 3*
100, 120